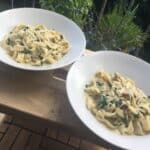 Udskriv
Pasta Carbonara - Opskrift
Ingredienser
200

g

bacontern

1

stk

stort løg

2

fed

hvidløg

1

spsk

olie

(raps eller oliven)

1

dl

hvidvin

4

stk

æg

50

g

revet parmesanost

1/2

spsk

peber

3

håndfulde

frisk spinat

(eller halvt så meget persille)

500

g

pasta

1

spsk

citronsaft
Sådan gør du
Kog noget vand til pastaen.


Steg baconterninger i sauterpanden, når de er ved at have fået godt med farve, dryppes de af på en tallerken med noget papir.


Svits hvidløg og løg i olien på medium varme - du behøver ikke gøre sauterpanden ren, men det er en god idé at fjerne lidt, hvis maden ikke skal smage for meget af bacon.


Mens løgene svitses stille og roligt, piskes æggene sammen med parmesanosten.


Tilsæt hvidvinen og spinat til løggene og lad det stå og simre lidt. Spinaten vil nu miste meget af sin volume.


Kog pastaen og når den er al dente (kogt men har lidt bid i sig), tilsættes pastaen i sauterpanden sammen med bacon.


Blandingen i sauterpanden må ikke være for varme, da det vil ødelægge æggene.

Når blandingen ikke er brølende varm længere, tilsættes æggemassen stille og roligt og det gøres rundt, sådan at det bliver en lækker sauce.


Tilsæt gerne ekstra væske i form af pastavand - det gør vi selv, da vi godt kan lidt godt med sovs.

Kværn salt og peber ned i retten


Tilsæt citronsaften, da det får retten til at virke mindre fed.


Serveres med let ekstra drys salt og peber på toppen sammen med lidt ekstra parmesanost.

Det er muligt at tilsætte fløde sammen med hvidvinen - det er op til jer, nogle vil gerne have det med, andre gerne uden. Det giver en lidt mere cremet sovs - men også fed. Derfor må der gerne tilsættes dobbelt så meget citronsaft, da det fjerner rigtig meget af den fede smag.
Opskriften på pasta carbonara
Pasta carbonara er en enestående ret, som du helt sikkert vil kunne lide.
Det er selvfølgelig OK, at ændre i opskriften, sæt en eller flere af gæsterne ikke kan udstå specifikke ingredienser, som fx indeholder bestemte former for konserveringsstoffer, aromastoffer, smagsforstærkere med mere.
Har du rettelser til opskriften med pasta carbonara?
Du kan være sikker på, at vi altid er, hvis du har nogle ideer til ændringer og/eller forbedringer til en opskrift som eksempelvis pasta carbonara.
Er det sådan, at du har nogle gode tips til vores pasta carbonara, så skal du endelig smide en kommentar nede i kommentarfeltet.
Vi bliver SÅ glad hver gang, at nogle af jer, bruger jeres tid på at like, kommentere, dele og dermed spreder opskriften for alle vinde – hvilket uanset om det er pasta carbonara eller en anden opskrift.
Lønnebo skal være din foretrukne go-to madblog
Der findes rigtig mange skønne madblogs derude, og vores håb er, at Lønnebo en dag ender blandt dine favoritter.
Så derfor håber vi naturligvis på, at denne opskrift på pasta carbonara dig og din familie.
Du vil nok opleve, at enkelte af madretterne er forklares mere end andre. Det kan bl.a. have noget at gøre med opskriftens sværhedsgrad – men også fordi, at vi vil sikre mig, at du bliver guidet rigtigt.
Kh. Lønnebo